IOANA STELEA – Experimental Glass Engraving: Light, Volume and Line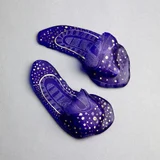 Date: 01/07/2023 - 14/07/2023
Bild-Werk Frauenau
https://www.bildwerkfrauenau.de
The centuries-old technique of glass engraving encompasses a variety of art media that can easily be integrated into contemporary approaches. Artistic expression can be generated by wheels, diamond points, drills, sandblaster or abrasive materials used in experimental ways.
We will learn how to use and mix techniques using the lathe, the flexible shaft and sandblasting.  With a focus on our creative process and compositional thinking we bring ideas and stories on blank pieces of glass to life, and transpose them into single objects, installations or collaborative pieces. Step by step we will discover the basic language of every tool and understand the effects that can be obtained. Experimental glass engraving will also be an important part of the course. Through the use of unconventional materials or tools and plein air engraving new perspectives can be gained. We will work on flat and blown glass, and on special shapes which we create during the course, using the fusing technique. The course is open to all and is centered on spontaneity and experiment.
Ioana Stelea trained in the National University of Arts in Bucharest, and as an Erasmus student in Czech Republic, followed by working with several engraving masters in CZ. Finally, she completed her Ph.D. in Glass Art at the National University of Arts in Bucharest where she now is employed. Ioana is active as an artist, as a researcher and as a teacher of glass engraving. Her work is in public collections and she has made many solo exhibitions as well as participating in group shows.
www.ioanastelea.weebly.com
@ioanastelea
PATRICK ROTH – Glass Cutting: In the Beginning Was the Egg

Date: 01/07/2023 - 08/07/2023
Bild-Werk Frauenau
https://www.bildwerkfrauenau.de
The traditional oval basic shape is our starting point.
During the cold processing of glass, this shape results in natural movement sequences that we want to deal with in this course. We playfully learn specific shape changes using lathe, saw and flatbed grinder, but without neglecting the oval shape and its materiality.
We also want to incorporate optical aspects such as reflection and refraction into our pieces, which can result from the glass base formed on the furnace.
The resulting multidimensionality offers an exciting contrast to our original form, the glass egg. 
This course is open to everybody. However, basic knowledge of cold working glass is an advantage.
Patrick Roth has been working with glass for over 20 years. After his apprenticeship as a glass refiner at the Zwiesel (D) Glass Technical College and the acquisition of the master craftsman's certificate in 2005 he has worked, among other things, as a workshop manager at J. & J. Lobmeyr in Vienna and as a teacher at the Vocational College for glass-ceramic design in Rheinbach (D). His work can be seen in numerous exhibitions across Europe. He has been running his own studio in Bregenz at Lake Constance (A) since 2016.
www.pr-glas.com
@patrick.roth.glass
WILHELM VERNIM – Engraving workshop

Date: 22/08/2023 - 27/08/2023
Glashütte Gernheim
https://glashuette-gernheim.lwl.org/
From 22/8 till 27/8 you can follow a workshop glass engraving with Wilhelm Vernim at Glashütte Gernheim.
PAVLINA ČAMBALOVÁ & URSULA MERKER – Glass Engraving and Printing: Wabi-Sabi, Imperfection and Transience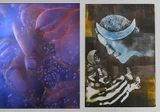 Date: 26/08/2023 - 02/09/2023
Bild-Werk Frauenau
https://www.bildwerkfrauenau.de
The Jiří Harcuba School at Bild-Werk Frauenau
The free School of Jiří Harcuba is unique. The Dominik Biman school, that was organised by Jiří Harcuba († 2013) at changing places in the way of the itinerant Bohemian glass craftsmen, now returns to Bild-Werk Frauenau as Jiří Harcuba School. The worldwide renowned artist and glass engraver, teacher and humanist brought modernity into glass engraving, and with it an open spirit, humanity and a deep understanding of his craft. He taught a new approach to the technique, with which he influenced so many artists, using the mark of the engraving wheel to create portraits and glass reliefs, and also expressive prints. Jiří encouraged us to take art playfully and honestly, appreciating that semi-finished sketches are often better than perfection. One of his favourite ideas was Japanese "wabi-sabi" – the art of the imperfect and random: to find beauty in whatever appears under the engraving wheel and print cylinder. Both course teachers have closely worked with Jiří Harcuba.
———-
In the engraving studio we will draw into the glass surface, using the engraving lathes, hand engravers and sandblasting. We work on vessels, cast blocks and on glass plates, from which we print by hand or through the printing press. The technique of glass printing (vitreography) offers vast possibilities for spontaneous monotypes or series, painterly colour prints and relief prints from glass and from other materials. Our work will play across the two studios and extend into other techniques and materials. Let´s play! Beginners as well as experienced engravers and printers benefit from this workshop according to their needs.
Pavlína Čambalová studied gem cutting and engraving at the School of Applied Arts in Turnov, CZ and, thereafter, glass design and engraving at the Higher Glass School in Nový Bor, CZ. She worked as an engraver at Lobmeyr of Vienna since 2008, turning freelance in 2016. She has won several prizes. Pavlina has been Artist in Residence at the Eisch Glass factory Frauenau, TIGA Toyama, Pilchuck Glass School, USA. She has taught internationally and participated in workshops, symposia and exhibitions. In 2014 she took over the Dominik Biman School, formerly organized by Jiří Harcuba, and renamed it in his memory to the School of Jiří Harcuba.
www.cambalova.cz
@pavlinacambalova
Ursula Merker has concentrated on glass printing, sandblasting and glass engraving as well as on interior and landscape installations in glass since 1980. Exhibiting widely and with outdoor public projects, she has made a name for herself both nationally and internationally. As a visiting lecturer, she taught in the Czech Republic, England, France and Turkey. Ursula Merker lives and works in Kelheim bei Regensburg.
www.ursulamerker.de